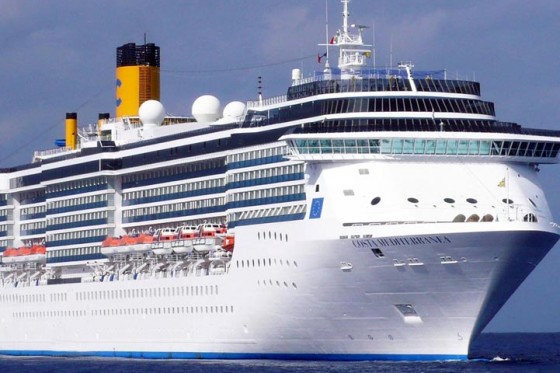 | Dal | Al | Quota base | Prezzo finale | Note |
| --- | --- | --- | --- | --- |
| 15/04/2018 | 15/04/2018 | 146 € | 296 € | QUADRUPLE INTERIOR CABIN |
| 15/04/2018 | 15/04/2018 | 165 € | 315 € | TRIPLE INTERIOR CABIN |
| 15/04/2018 | 15/04/2018 | 196 € | 346 € | DOUBLE INTERIOR CABIN |
| 15/04/2018 | 15/04/2018 | 196 € | 346 € | QUADRUPLE SEA VIEW CABIN |
| 15/04/2018 | 15/04/2018 | 224 € | 374 € | QUADRUPLE BALCONY CABIN |
| 15/04/2018 | 15/04/2018 | 231 € | 381 € | TRIPLE SEA VIEW CABIN |
| 15/04/2018 | 15/04/2018 | 266 € | 416 € | TRIPLE BALCONY CABIN |
| 15/04/2018 | 15/04/2018 | 294 € | 444 € | DOUBLE SEA VIEW CABIN |
| 15/04/2018 | 15/04/2018 | 350 € | 500 € | DOUBLE BALCONY CABIN |
Quota base = basic cruise price
Prezzo finale = Total amount including Taxes and parties Bracelet
REDEFINITION CRUISE
Departure 15th April 2018
4 days - 3 nights
TravelGay.it planned to you the best Italian LGBTQ scene on board of Costa Mediterranea ship cruise organized in 4 days and 3 nights of much fun.
For the first time ever you'll can enjoy the main fanciest Italians clubs in only one place.
Redefinition Cruise is setting tongues wagging throughout Italy and gathering the collaboration with the most important DJs and performers from Gay Village, Drag Factor from Rome, COX, Mamamia Tuscany, Disegual La Notte Genova, JOIN the Gap Milan, Red Bologna, Padua Pride Village, Queever Turin and G -break event.
And of course many Italian guys... so are you still thinking about?
How works
Redefinition Cruise is an exclusive cruise group departing on April 15 2018 from Savona pier to enjoy the itinerary Savona-Barcelona-Marseille-Savona with lots of fun. Once docked you can decide visit each city or just stay on board relaxing with friends.
| | | | |
| --- | --- | --- | --- |
| DAY | DESTINATION | ARRIVAL | DEPARTURE |
| 15/04/2018 | Savona | - | 16.30 |
| 16/04/2018 | Barcelona | 13.00 | 19.00 |
| 17/04/2018 | Marseille | 09.00 | 17.00 |
| 18/04/2018 | Savona | 09.00 | - |
The ship chosen to celebrate Redefinition Cruise is Costa Mediterranea which is inspired by Italy's historic palaces, representing Italian elegance and filled with works of art. The Argentieri Restaurant is unique, spectacular and embellished with 139 artistic pieces of silverware. Also you'll find 3 restaurants, 12 bars including a Wine Bar; Spa on two levels with wellness centre, gym, steam room and UVA-ray solarium; 4 pools, including one with a retractable cover and water slide, 4 Jacuzzis; Virtual World; Shopping Center and party, party and party!
OUR WORLDWIDE PARTNER:
Reservation from ISRAEL please contact
Yanir Horowitz @ YHTT-YanirTailorTours Tel: +972-507699033 - E-Mail: yanir.yhtt@gmail.com
Curious?
You can reach us arriving to Genoa airport (Genova - Savona 60 km) with direct flights from:
-Amsterdam by KLM
-Atene and Santorin by Volotea
-Frankfurt and Munich by Lufthansa
-London LGW by British Airways
-London STN by Ryanair
-Moscow by S7 Airlines
-Naples by Volotea
-Paris CDG by AirFrance
-Rome by Alitalia
-Vienna by Volotea
or if you prefer you can land to Milan (Milano - Savona 185km) with flight connection from all over the world. From november 2017 you can come from Brussels, Geveva, Zurich, Barcellona and Trieste flying with FlyValan.

DISCOVER GENOA
Before or after the cruise you can stay some days in Genoa to discover the beautiful City and its surroundings: Portofino, 5 Terre, Portovenere, San Fruttuoso, Camogli. Genoa is world famous as the birth place of Christopher Columbus and known as La città Superba (The Superb city). Genoa was one of Italy's two largest maritime republics (together with Venice) that enjoyed enormous power and prestige as early as the Middle Ages. In the city ranges the most luxurious aristocratic palaces and an unique church built above shops with an unusual elevator (the only one in the world that moves first horizontally then vertically). The historic center is the third largest historic center in Italy arranged in a maze of narrow streets, beautiful squares, secret corners and ancient historic shops.
The Porto Antico area contains a panoramic lift that rotates at 360° offering an amazing overview of the city and its amazing maze of caruggi (narrow streets). Located in the Porto Antico you can find the Genoa Aquarium, the Europe's largest marine attraction and the second largest aquarium in Europe. Not to mention the wineries and rich gastronomy full of flavors like pesto, focaccia, freshest fish, gelato and delicious confectionery.
All that not far by train or road from Florence, Pisa, Milan and Nice-France. So if you decide coming before the departure date to enjoy the beautiful Genoa and its surroundings contact us for more details.
THE CRUISE PROGRAM
The trip will begin on April 15, 2018 in the middle of spring. At that time you will find colorful cities for flowers and a great time to visit them or having an aperitif with us. In sailing you will enjoy a program full of fun.
For you:
- 3 disco nights
- funny drag Cocktails each day
- 1 pool party
- many other surprises with guests, performers, go go boys....
PART OF OUR STAFF!
MATTIA MANFRIN from RED BOLOGNA
SIMONE FARAG from GAY VILLAGE ROMA
RADDA DJ from DISEGUAL e VERGINE CAMILLA
I WILL from COX
RIKI PILOT from JOIN THE GAP MILANO
CIQUITINA from DISEGUAL e VERGINE CAMILLA
ENORMA JEAN from DRAG FACTOR 2017
CHARLES GOLD from GAY VILLAGE
MATTEO MAIDA
SALVATORE MARTINEZ
SALVATORE TURE
VALERIO BOVIENZO
EMANUELE MARINGOLA
and many many other guests!
LOW PRICE GREAT FUN!
PRICES PER PERSON:
IN DOUBLE CABIN:
Inside cabin: 196€ per person
Sea View cabin: 294€ per person
Sea View with Private Balcony: 350€ per person
IN TRIPLE CABIN:
Inside cabin: 165€ per person
Sea View cabin: 231€ per person
Sea View with Private Balcony: 266€ per person
IN QUADRUPLE CABIN:
Inside cabin: 146€ per person
Sea View cabin: 196€ per person
Sea View with Private Balcony: 224€ per person
-Every Costa cabin features: adjustable air conditioning with thermostat; interactive flat-screen satellite TV; hair dryer; safe; a steward, always on duty; minibar and 24-hour room service (charges apply); Wi-Fi (charges apply); soap and shower gel; linen (bed sheets and towels) changed regularly.
Info and conditions for groups please contact: info@travelgay.it
TRAVELLING ALONE?
To avoid 75% of singles surcharges ask for the program "Cabins Buddy" and share a cabin with new friends.
The price includes:
- Accommodation in the chosen cabin for 3 nights
-100 euros of Port fee.
- 50 euro -Bracelet to access all Redefinition Cruise programs.
- full board arrangements.
- Redefinition cruise assistance
- Costa Mediterranea entertainment.
Not included:
-Transfers (quote in request)
-Tips, drinks, excursions.
- everything not specified in " The price includes".
Supplements (strongly indicated):
PRANZO & CENA (Lunch & Dinner package):
This package is for those who likes a glass of wine or a cold beer with their meals. You can enjoy a selection of unlimited wines, beers, water and soft drinks served only in glass and inside restaurants, every day at both lunch and dinnertime. The package must be purchased by all guests in the same cabin and are not individually sold. The price indicated includes the 15% service charge.
Costs: 15€ per person per day
BRINDIAMO (Cheers package):
Replaces and enriches the above package. This is a perfect package for guests who want to relax and have their favorite drinks at any time of the day. Coffee and cappuccinos when you want, water, refreshing soft drinks and beers to enjoy by the pool, the most popular aperitifs, and a good selection of wines and liqueurs.
Note: Premium brand drinks and minibar items in your cabin are not included in this package. Drinks will be served only by glass; bottles are not available such as specific drinks of the themed bars. The packages must be purchased by all guests in the same cabin and are not individually sold. The price indicated includes the 15% service charge.
Costs: 25€ per person per day
Optional extras:
-Cancellation insurance: adding 5% applied on total price
-Transfer* (80€ per person with 1 luggage of 23kg or 2 trolley of 15kg each. Price per one way from Genoa Airport or Genoa Train Station to Savona pier).
#RedefinitionCruise